06 May 2022
Create the perfect indoor living space to enhance your wellbeing as well as your style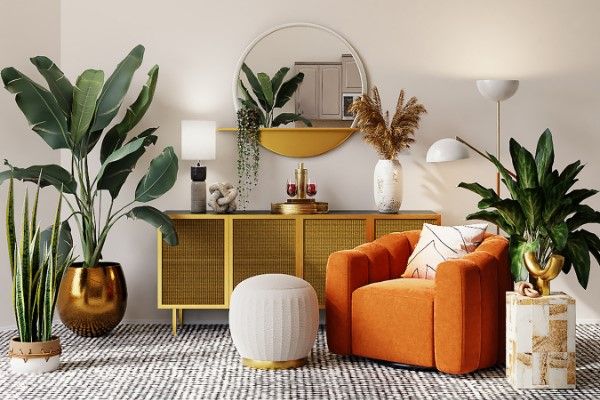 We all like to make our living spaces as inviting and comfortable as possible, and there's nothing more calming and health enhancing than bringing a sense of the outside indoors. For those balmy summer days there are few things as evocative of summer as eating outdoors. However large or small your house creating an extension to your living space is the ultimate way to enjoy the warmer weather and play host to summer soirées.
Bringing the outdoors in…
Put plants and flowers everywhere. Not only are they good for your wellbeing brightening up your mood (and according to research help you better connect with other people), they actually help to filter and clean the air of the room too. Peace lilies, gerberas and bromelias can help to remove harmful toxins from the air and can even improve a night's rest, as they give off large amounts of oxygen.
Flowers, plants and even trees can make your home smell fabulous and compliment your interior design as they come in all shapes and sizes. If you've no idea where to begin, why not choose some easy to care for plants such as Peace Lily's, Parlour Palms, Snake Plant or Golden Pothos. You can buy sets from places like Patch Plants called 'The Unkillable Set' or the 'Easy Care Set' which are perfect to get you started. If you really get carried away, you could create your own green wall which not only looks aesthetically pleasing, but helps cool your house down in summer and adds a layer of insulation in winter.
If you really don't have the time, there are some really good faux plants available to help you create your indoor oasis!
Other ways to bring the tranquillity of nature into your home include using natural materials. With environmental awareness on the rise, Designers and homeowners alike have been embracing the eco-friendly trend and natural materials have been prevalent in interior design in the past few years. They are wonderful neutrals and add an instant feeling of luxury and style, they also tend to give the space a timeless elegance. Not only can you add neutrals through furniture and beautiful accents around your home, think about your flooring too.
Let natural light invade your home. There are so many benefits to natural lighting, it can brighten a space without using electricity, saving you money, while also increasing the value of your house. Natural light also has so many health benefits. It increases your focus and concentration, boosts your immune system, makes you happier and also helps you sleep better.
Rocks, wood, sea shells, straw and jars of beach sand are just a few objects that you can add to your living space to enhance the outdoor feeling. Try out murals and photographs of these elements as well if you can't access the real thing. Potpourri scents and woodsy incense are always a great treat.