01 Mar 2022
How To Set The Perfect Summer Tablescape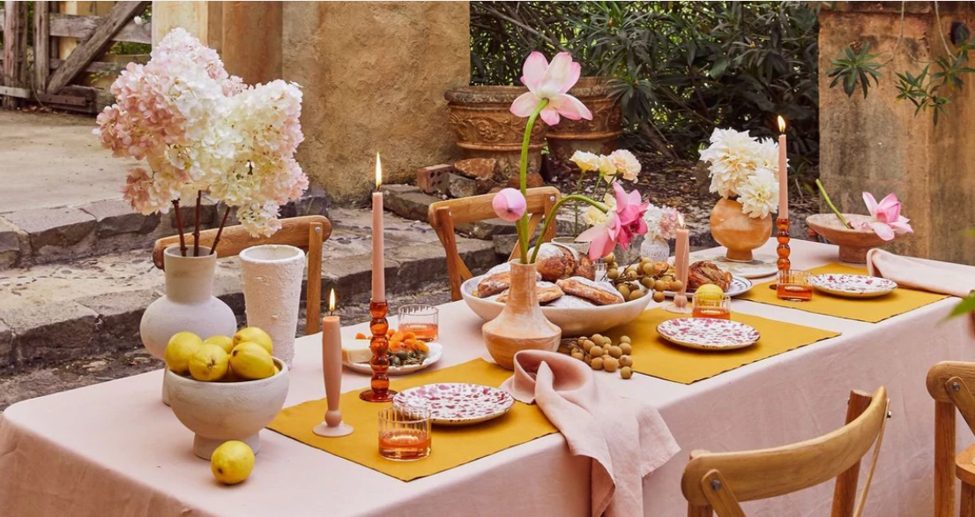 Spring is almost here, which means plenty of opportunities for entertaining family and friends in a sun-lit dining room with the patio doors flung a-wide, or an al-fresco feast with the grass at your feet and flowers and foliage all around. Everyone wants that photo-worthy set up to make the food served look all the more delightful and continue to the motif of summer and colour onto the dinner table. But how do you assemble your décor creatively to fulfill the layers of texture, tone and colour needed to really make it pop?
We have the answers…
Start with a neutral table runner in either linen or soft burlap. This creates a light and earthy base for your tablescape.
Next comes the flatware and cutlery. These need'nt be expensive or your finest china. The décor will do the talking and bring colour and personality to your tablescape, so spare yourself the fear of chipped plates and opt for what you're comfortable with.
Start to introduce some personality to your table with the glassware; if this isn't a formal dinner, they don't need to match. Add height and variety with a mixture of champagne flutes and coupes, and if you have coloured tumblers for soft drinks, don't be afraid to add these in too.
Set the tone for the occasion with napkins. Drape-folded adds glamour and sophistication, napkins rings offer opportunity for personalisation and creativity, and the simple rectangle fold provides the perfect base to place a menu or a garden bloom on top.
Now it's time for your fresh foliage. Tall vases of flowers work just as well as punchbowls or small string-fied bouquets. Take a small fallen branch budding with plenty of leaves to build a focal piece around or opt for a faux garland which can revised time and time again and updated with seasonal flowers scattered around. The fresh elements add that ineffable calming scent, in addition to colour.
Image credit: Dianne Decor
Don't underestimate the importance of lighting. If it's evening time, select some rustic lanterns to provide a warm, low glow, or candelabras for height and elegance. If it's daytime, use lighting elements as an aesthetic accessory instead; take out your newest, prettiest, and precious candles without fear of having to burn them!
Avoid a bare table for arriving guests by laying out fruit, bite-sized treats or a creatively constructed charcuterie board.
Sight influences the perception of taste, so take time in how you plate up your food. Don't skimp on the garnish, the presentation or the finishing touches that can elevate a simple dish.
When it comes to setting the perfect summer tablescape, you need to look beyond the table too to the surroundings to make sure they reflect the atmosphere you're trying to create. Is there music playing? Has the lawn been mowed? Is the lighting in the room or on the patio optimum warmth and brightness? It's all about creating an experience and mood that extends across the whole space.
Finally, don't be afraid to experiment with colour, textures and materials. Let your tablescape tell a story about you, the food, and how you want your guests to leave feeling.
Image credit: Forbes
Happy Summer Dining!
The Spirit of Summer Fair team x